Do books unite us? So thinks award-winning author and poet Kwame Alexander. Alexander is the author of The crossover, the rebound, and many other hits. Millions of young people around the world have read and loved his novels and poems.
On September 3, I spoke with Alexander at the National Book Festival in Washington, DC. I asked about his new novel, The door of no return, due out September 27 from Little, Brown Books for Young Readers. The novel follows the harrowing journey of 11-year-old Kofi Offin after a tragedy has upended life in his West African village.
Here are the highlights of my conversation with the author, which has been lightly edited for length and clarity.
The theme of this year's National Book Festival is "Books Bring Us Together". Do you think that's true?
Absolutely, books can bring us closer. Books can be mirrors where we can see ourselves, and books can be windows to see others. We become more connected to each other and to ourselves.
Have any experiences inspired you to write The door of no return?
I have been to Ghana, West Africa, 11 times. [The name Kwame comes from Ghana.] Going there so much, tasting the food, meeting the people, and stepping into the ocean, I felt a kind of kinship. I felt like I was connected to this place. I wanted to write a story based there. These trips have inspired me.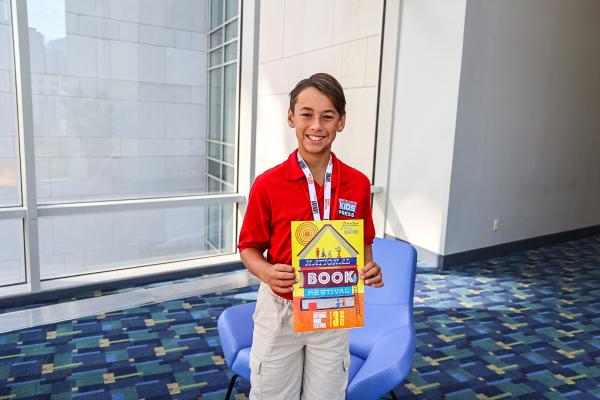 What do you think readers will like the most?
There's an interesting plot twist and the ending is a mystery. It's adventurous and exciting.
In the book, Kofi's character faces an unexpected challenge. How do you think challenges can bring us together?
We cannot figure it all out on our own. Sometimes we need help from other people. We realize that we have others around us who can support us, give us ideas and help us. It makes us a stronger family and community, and stronger, better people.
The characters in your books look and act like children I know. Why do you think it's important to make your characters real and relatable?
Kids can tell if a character is fake or not real, and they're turned off. They don't want to read the book. I want kids to not only enjoy the beginning and the end of my books, I want them to enjoy everything in between. To do this, you need to make the characters believable.