Last week, a discussion took place on "The New Frontlines of Tamil Women's Resistance" at the 2022 FeTNA Summit in New York, with prominent Tamil women activists, scholars and feminist leaders.
The panel discussion focused on the particular experience of Eelam Tamil women within the self-determination and nationalist movements, and showcased the plight of Eelam Tamils ​​to a diverse global audience. It featured esteemed writers and activists Dr Meena Kandasamy and Dr Nimmi Gowrinathan. Mario Arulthas attended on behalf of People for Equality and Relief in Lanka (PEARL) and explained the need for Tamil organizations to amplify the voices of Tamil women. Abiramy Logeswaran from Tamil Diaspora Alliance (TDA), described TDA's initiatives in the North East to advance the economic self-sufficiency of Tamil women in Eelam.
Poet Arivu, the lyricist behind the YouTube phenomenon, 'Enjoy Enjaami,' also expressed his solidarity with the Tamil community of Eelam and sang a Oppari Padaloriginally from the Up-Country Tamil community.
The singer and scholar, Ganavya, also presented an original and moving piece.
Ganavya presents a play pic.twitter.com/lGSA0dpfaA

— Tamil Guardian (@TamilGuardian) July 2, 2022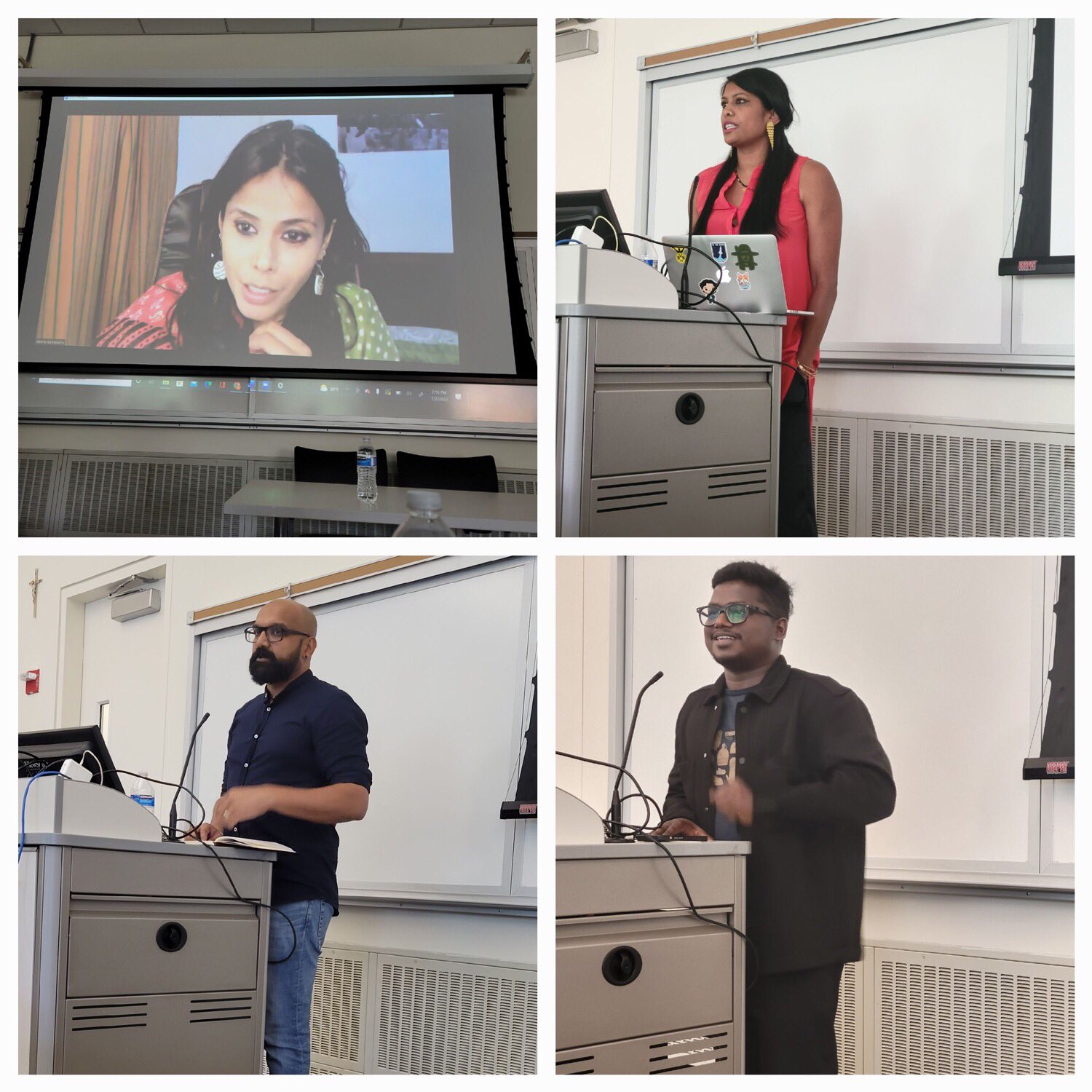 Dr. Meena Kandasamy spoke about the liberation of Eelam Tamil from her perspective as a top feminist poet and human rights activist, born and raised in Chennai, Tamil Nadu.
"As an Indian Tamil woman and also as a feminist, I often feel that the discourse around Tamil nationalism is often very skeptical of feminism and what it stands for and so I really wanted reclaim what feminism meant to the Tigers," she says.
She went on to acknowledge the role of the Indian state in perpetuating the 2009 Tamil Eelam Genocide, and how she navigates that discourse as an Indian citizen.
"What does it mean for an Indian Tamil woman to talk about the rights of Eelam Tamil women or you know even the struggle of Eelam Tamils ​​for self-determination? and somehow I still think part of that is down to the historical amnesia that we don't understand […] how integrated the liberation movement was and the wide support it enjoyed on the ground in Tamil Nadu, so I find myself very organically connected to it. But it's not that matter of just being Tamil […] it is also […] ways we don't necessarily like or approve of. India is implicated in the genocide […] India is involved in what happened and […] was extremely diabolical […] and cost millions of lives and many rapes on the island. It's led to all the conflict we're facing right now."
She continued, "[…] on the other hand, how do you engage the fact that your state committed all these atrocities? […] the only person who can question your status is a citizen, someone who identifies as Indian […] So I think it's a very important thing to talk about."
"The large-scale propaganda campaign of calling them terrorists, calling them people who brainwashed and took wives […] all this negative propaganda in a way i think […] it's not just tamils […] he perfected how to prosecute social genocide and cultural genocide […] how to submit people who defend their rights", says Dr Kandasamy.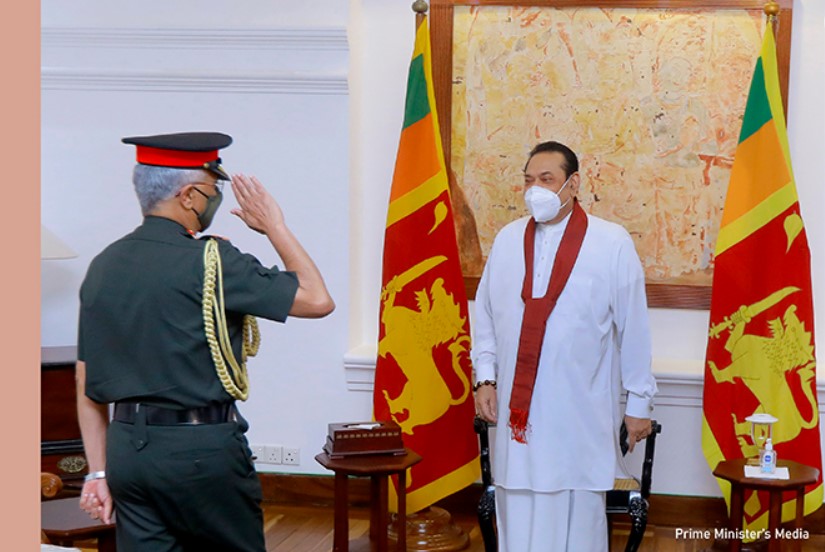 Indian Army Chief Naravane salutes Mahinda Rajapaksa during his 2021 tour of Sri Lanka
"My interest has been and always will be in reading the politics, in reading the resistance of those spaces that we don't seek out," Dr Gowrinathan said.
She is the founder and director of the Politics of Sexual Violence initiative, a global study examining the impact of rape on the political identities of women in extremist movements, and a visiting research professor, teaching courses on gender and violence at the Colin Powell Center for Global and Civic Leadership at the City College of New York.
"Looking at the world, the American feminist, this is what has settled in the American government, this is what has settled in all the governments in Europe. White feminist cares first about sexual liberation […] This is the view that exists within international politics," said Dr Gowrinathan.
She criticized the pervasiveness of white feminism in foreign policy discourse. "I've worked in the US government, other governments, asylum cases […] When you talk about things like women's politics, like women's nationalism — that they don't want to hear, because the white feminist herself is responsible for that process," she continued. "When you talk about discrimination on the basis of race, the white feminist is responsible."
Dr Gowrinathan went on to say: "[s]o there are two spaces you are talking about. One is formal political work and the other is informal political work. I started out doing formal political work, at the State Department, in Congress […] but [what] I understand very clearly is that the white feminists control the conversation about gender and as soon as you talked about violence you were no longer part of a legitimate resistance conversation"
Speaking about the political engagement of Tamil women in Eelam, she says: "[t]Since space has always had to be created by themselves, they are not interested in being granted space by the state. It's something they took."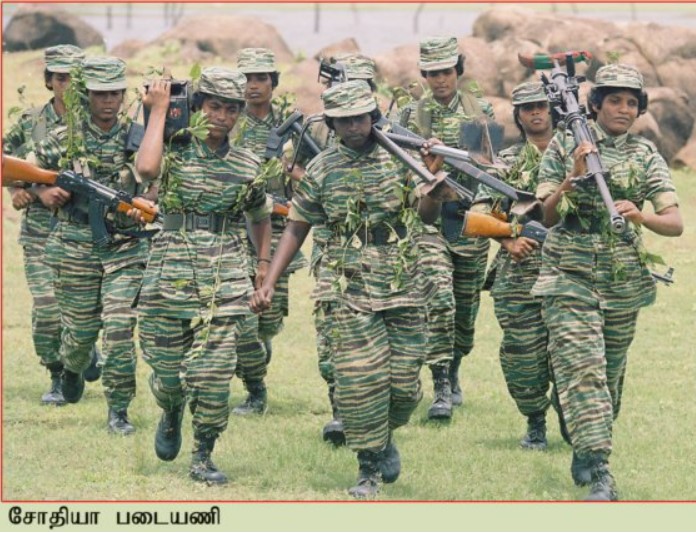 Sothiya Brigade
Mario Arulthas from People for Equality and Relief in Lanka (PEARL) spoke about the need for Tamil organizations to amplify the voices of Tamil women in Eelam. He shared an insightful political analysis of the current economic and political crisis in Sri Lanka, by the leader of the Families of the Disappeared, Mariyasuresh Eswary.
During PEARL's presentation, a video was played of Mariyasuresh Eswary from Mullaithivu, who spoke about the protests of Tamil families seeking information on the fate of their relatives who disappeared at the end of the conflict. pic.twitter.com/t1yHpTzZT9

– PEARL Action (@PEARL_Action) July 7, 2022
Gowri Koneswaran shared an emotional and raw piece of speech. She expresses the traumas of Eelam Tamils ​​throughout the civil war and acknowledges their continued oppression.
Gowri Koneswaran recites moving original poem pic.twitter.com/1srbR3gZUM

— Tamil Guardian (@TamilGuardian) July 2, 2022
"Hello, my name is Tamil," she began. A minority in America. The second largest ethnic group in Sri Lanka. Hello, my name is Tamil. Not a terrorist but in terror of a country, at war, panting. Island of blood. Shape of a tear.
The verses recall the historical oppression suffered by the Tamils ​​of Eelam at the hands of the Sri Lankan state. The haunting nature of the play provided vivid and authentic images of the genocide.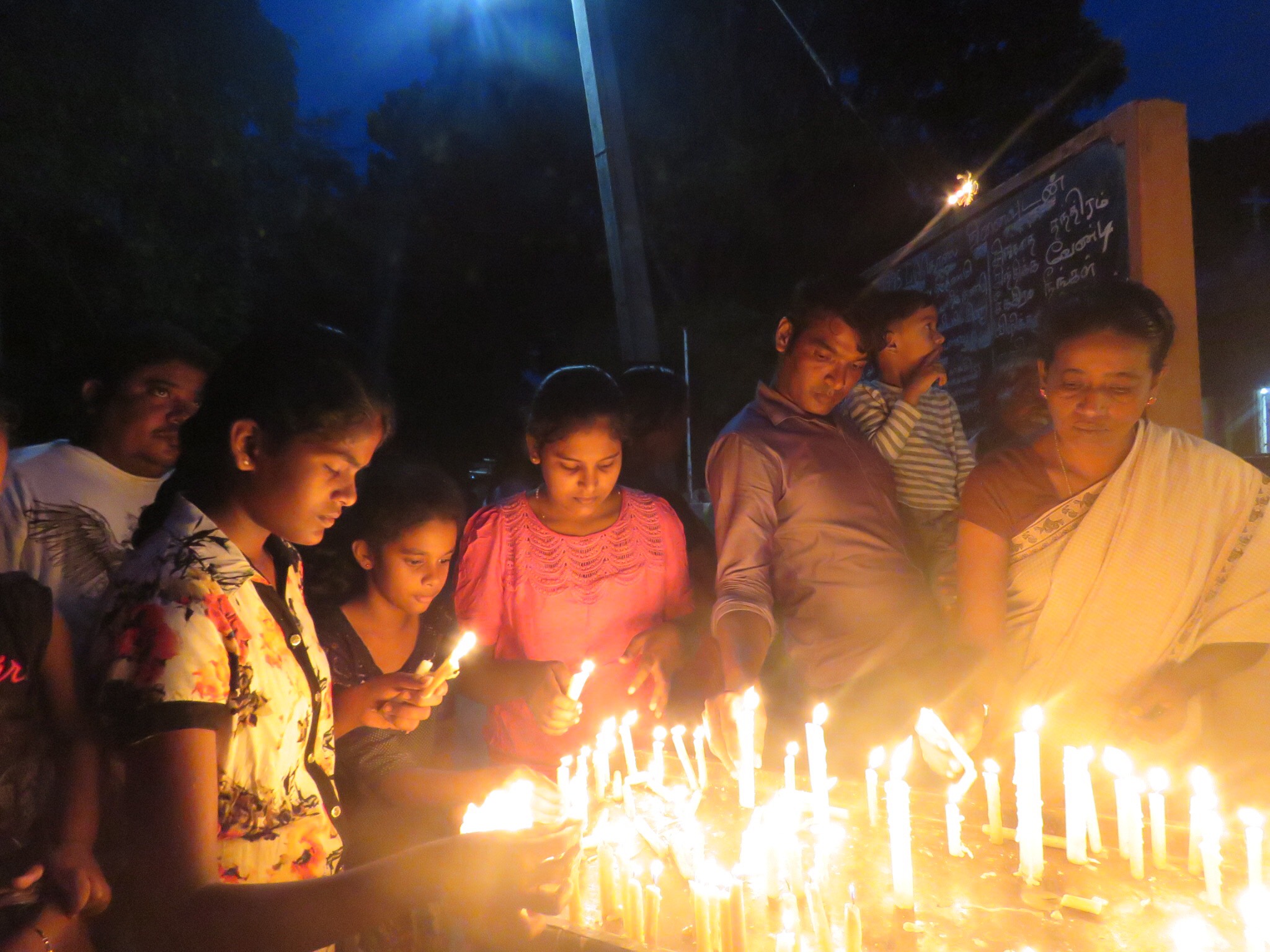 As Koneswaran recited his poem, Arivu, the poet who rose to prominence in the Tamil Nadu music scene, shared how deeply moved he was.
Renowned for his politically conscious music that explores themes such as caste and poverty, he reflected on Koneswaran's poem saying, "[b]Before coming to the event, I had little background on the subject. His poem really touched me because the first time I decided to pick up a pen to express my feelings was during the Tamil Genocide in Eelam."
"IIt was the genocide that happened in Tamil Eelam that triggered me," says the artist.
He recalled that as a child in the ninth standard, he had been exposed to the ongoing genocide through the news. Arivu noted, "[l]winning and seeing that boys my age were afraid to go to school. This emotion really touched me. I felt a connection to his poem. The first poem I wrote was called Meendum Va Mannukul (return to the country)."
He then shared his perspective on the panel discussion.
"As an artist, the way I perceived the information shared today about the strength of female tigers and the current situation in Sri Lanka, I realized that we needed to strengthen our art even more. […] How do we present our problems to the world? On our side, I felt that we still had to strengthen our art, encourage more independent artists, more poems. When we express our pain through artists, millions of others will hear it. When they see a dance or hear a song, they tune into it. Naturally, we are an artistic society. Now, because of technology and markets, there are many assertions that we only need to sustain ourselves economically. We are fundamentally an artistic society."
Arivu further described the value he places on protest through art and his vision of building a more inclusive and egalitarian society through his artwork.
"We have to confront casteism. At the same time, we have to confront patriarchy. I believe in protest through art. I was moved hearing his poem because I just learned secondhand about the genocide, but how many children, how many young people […] would have witnessed it directly […] I have a strong desire or even a desire, you could call it, […] to write a song about them, or a rap, or produce a music video about them […] because it is necessary to present this problem to the whole world […] It is a cultural fight. There are deep roots underlying this conflict. There are 2000 years of history behind the way we perceive women. After 2000 years of oppression, we are only just beginning to talk about it. To build on that, we should definitely use art as a tool. We should definitely encourage artists who really understand the struggle and the pain and this life is like […] we are still fighting for yesterday."
As to when the fight for justice and equality will be achieved, Arivu is skeptical.
"We haven't even started our basic life. You are all fighting for justice for the events of the past. So I don't know when we're going to live today's life. Our next generation will probably be able to do that. At the very least, I hope they can live happily and coexist equally."