BEMIDJI – Braving temperatures of nearly 100 degrees, around 50 people gathered on Sunday to commemorate Bemidji's fourth June 19 event in celebration of freedom and equal rights for all.
Organized by a local association
the event was held at the Movil Maze Recreation Area and included yard games, dinner, and stories and songs celebrating black history.
"We're just here to celebrate our freedom and our rights," Project for Change board chairman Jacob Wiley said ahead of the event.
Also known as Emancipation Day or Freedom Day, June 19 commemorates the reading of President Abraham Lincoln's General Order No. 3 on June 19, 1865 in Texas, which announced the release of enslaved people.
Texas was the first state to recognize Juneteenth as a holiday in 1980, but on June 17, 2021, President Joe Biden signed a bill to make June 19 a federal holiday commemorating the end of legal slavery. American blacks.
"We are here remembering what our people have been through so that we can continue to work towards progress," said Project for Change board member Jeanine Wiley at the start of the event. "Please have fun, visit each other, eat lots of food and thank you so much for coming."
Ashley Charwood, event planner and Project for Change board member, greeted and handed out tickets to each person upon arrival so they could be entered into the draw for door prizes later.
After dining and sightseeing for a while, everyone gathered for a small presentation by David Frison, chaplain and vice president of Project for Change.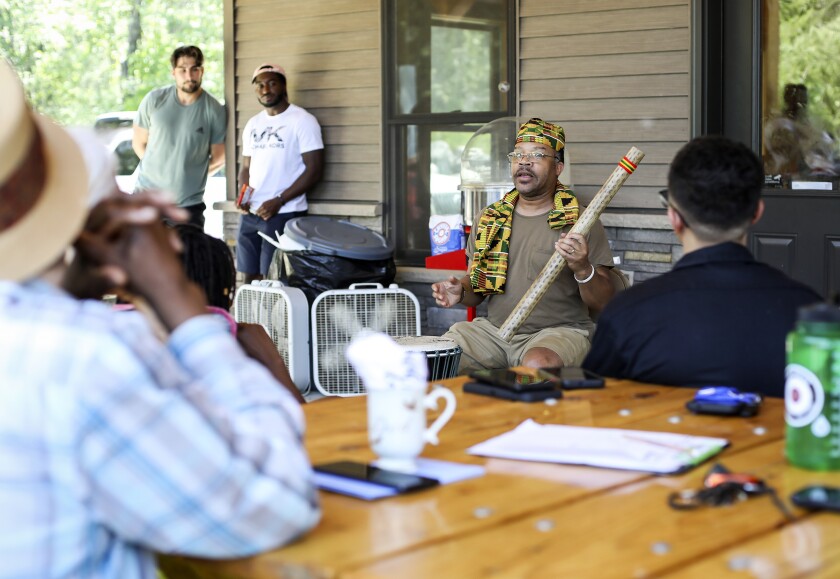 "Storytelling is so important to African culture, we tell stories to communicate, to share history and knowledge, and to learn from each other," he said. "So I just want to share a few stories with you today so you can see how storytelling is used in our culture to teach morality."
"The Creator, our God, used animals to communicate messages to us and how we should use these animals for moral growth," he said before telling a story about a lion and a forest fire.
In the story, he explained how most of the animals didn't pay attention to the fire and found excuses to help or just didn't participate. But the hummingbird, one beak full of water at a time, worked hard to help set the fire. pull.
"The hummingbird said, 'No matter how small, I'm going to do my part,'" he said. "So all the animals took their cue from the hummingbird and eventually started doing their part to put out the fire. If we can learn from animals and everyone does their part, no matter how small at the time, it will make a difference in the world.
Frison then shared a handful of stories about different birds, paralleling them with good leadership and sticking together as a group to bring about positive change.
After Frison finished her narration, 9-year-old Adele Reopelle read Countee Cullen's poem "Hey Black Child" aloud to the attendees.
Described as a poem of inspiration and hope, it was written during the Harlem Renaissance when black people moved north after World War I in search of better opportunities.
After migrating, new opportunities opened up for them in cities like Chicago, New York, and Harlem. The city of Harlem was populated primarily by African Americans, and poets such as Langston Hughes, Countee Cullen, and Gwendolyn Brooks made the Harlem Renaissance what it was.
according to an article on the history of the poem.
After the poem was read, Project for Change board member Juanita Reopelle sang "We Shall Overcome."
"In the spirit of hope, I'm going to sing an old Negro spiritual and if you know it, sing it with me," she said before she began to sing and others joined in.
Organizers then collected an assortment of door prizes, including gift cards and items donated by Starbucks and Papa Murphy's to Bemidji, as well as several gift baskets, t-shirts, towels and wall hangings.
One by one, tickets were raffled off and people rushed to claim their prizes.
Although the awards show concluded the planned activities of the event, attendees continued to mingle and visit each other enjoying ice cream and other cool snacks in an attempt to fend off the intense heat of the hot summer day. 'summer.