The red ear is blowing its nose by Robert Schechter, illustrations by S. Federico; San Jose, CA: Word Galaxy Press (c) 2023; ISBN 9781773-491301; 99 pages; $19.95 on Amazon.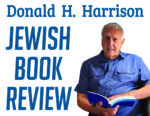 SAN DIEGO – Robert Schechter is a master of wordplay and rhyme, and he uses those talents to delight children and adults alike in this sometimes silly, sometimes profound, but always engaging collection of poems.
Schechter meditates on the parts of his face, his brain, the animals, the skies, the alphabet, the seasons and even on the poems he is writing.
The title of this collection comes from a poem called "What's Mine" which begins with a response to some people's belief that all that is about to be said has already been said:
Jthings no one has said before
include, "The red ear is blowing its nose,"
"I brought waffles to the door."
"The slipper broke my shoulder toes."
Later in this volume of 99 poems, Schechter emphasizes this point again, with "This poem is new". It begins:
This poem is new. I did it.
Before I sit down and write it down,
you couldn't read that poem at all,
recite his lines or quote him.
I don't know why Schechter or his editors or his publisher decided that "The Red Ear Smudges" should be the title of the book; there are so many other wonderful poems.
"Compared to what?" begin:
A pebble is not that big
against stones or rocks
but it's a mountain for the ant
who lifts him on his shoulders.
And "Ny Nose" begins
The one who thought where
put the pieces of my face
must have liked my nose because
it holds a central place
A middle stanza of a poem called "Not a Children's Poem" teaches us
Do not throw your waste into the sea.
Don't pollute the air!
Be sure the water we drink
is clean and still there.
This is good advice for adults; children shouldn't have to worry about such things. They should read books like this!
*
Donald H. Harrison is Editor Emeritus of San Diego Jewish World. He can be contacted via [email protected]