Younger brother Raymond carries on the legacy through the power of the pen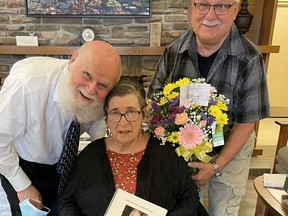 Content of the article
Raymond Tremblay honored his brother, Fernand, and the Extendicare Timmins staff who cared for him with a self-published book of poetry.
Content of the article
The product of born to be alive will go to the Residents' Council of the long-term care home for arts and crafts supplies, outings or to bring in artists.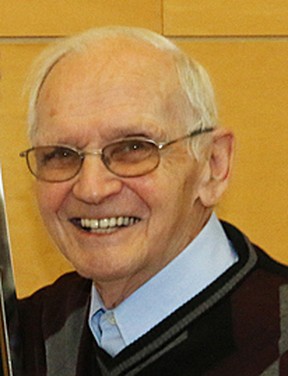 "It's like a circle," said Crystal Millette, Administrator of Extendicare. "I think this is the first time a family has gone to such lengths to remember one of our residents," she said, adding that the gesture of gratitude to staff will help with morale after a few difficult years.
Fern Tremblay, former reeve of the pre-amalgamated Township of Mountjoy and former city councilor for Timmins, died at the age of 90 on March 15andcancer-related complications.
Among his many contributions to Timmins, he was one of the first promoters of the Francophonie. He was a member of the Club Franco de North Porcupine, the forerunner of the Center Culturel La Ronde. Tremblay also worked with MPP Gilles Bisson and others to have rumble strips installed on Highway 11 north of North Bay in 2015. Rumble strips are grooves installed in the roadway to alert drowsy drivers who may get out of their way or off the road. They save thousands of lives each year, according to the Federal Highway Administration.
Tremblay founded Bonhomme Carnaval. He also founded the Joseph Fortin Foundation, which provided basic financial assistance to people in need. "My grandfather was always the type to put everyone first," Meagan Hamelin said.
Fern Tremblay Park was renamed in his honor, in recognition of his many contributions to the community, such as his longtime promotion of the Timmins Snowarama. "From 1975 to 2022, the Tremblay family raised $165,000" for Easter Seals, writes Raymond in born to be alive.
Content of the article
The book features acrostic poems that explore themes of love, faith, and gratitude. The acrostic form strictly adheres to a rule that the first letter of each line must spell the title of the poem. Raymond first stylizes the poem, then alters it to rhyme and form a shape on the page. The form suits its visual and visceral nature, he told the Daily Press.
The book also features the work of local photographer Richard Lamoureux and a series of touching portraits of Extendicare staff taken by Raymond's wife, Louise.
A retired social worker and administrator, Raymond has self-published 37 books of poetry.
"I wrote my first poem while I was director of social services at Kingston Mental Hospital," he said. "His name was 'Anne' and was inspired by a patient who was very aggressive but calmed down when she saw me. She adored me.
Raymond White Beard (he is Canada Post's official Santa), grew up in Mountjoy and is the author of many personal family memoirs.
The Timmins Public Library holds nine of his books in its local history section, a reference collection of approximately 200 titles. Her work is a valuable primary source, according to Carole-Ann Demers, director general of the library.
"We welcome local self-published authors," Demers said. "We like to get local perspectives, and when they write about local people, people in Timmins are interested.
The library sells the works of many local self-published authors, and the Timmins Writer's Group meets weekly at the library.
"It's good to encourage local writers to not be afraid to learn and explore this kind of expression," said Demers.
Born to be alive-Nstar to be alive is available for purchase at Extendicare Timmins, or by attending an in-person meet-and-greet event with Raymond Tremblay at the Timmins Public Library being held on Tuesday, May 17and at 2 o'clock in the afternoon
Hard copies are $20. You can also purchase a PDF for $18 by sending an e-transfer to: [email protected] All proceeds will go to the Extendicare Timmins Residents' Council.