Cain named Shane McCrae's pet (Private, £10.99)
Curious about life in and after "the tribe of Eden", American Shane McCrae's eighth collection investigates the origin of time when "God first thought of time himself / Was imperfect but time was the first mirror of God". McCrae's poems possess a self-reflective quality without being weighed down by story. As with Beckett and Whitman, repetition generates hypnotic music in search of the self. His poetry moves freely within restrained syllabic lines, building a wild, living dream world of a verdant garden, where an angry robot bird leads us down an Edenic rabbit hole. What seems surreal in McCrae's jazz-like poetry is actually human psychology, knowledge, and violence, as when the poet asks "Where else do humans begin" knowing that "Cain named / The animal in Abel's head. In addition to McCrae's sustained biblical investment, the book includes intimate childhood poems and questioning reflections on masculinity and the unpredictable chain reactions of family life. It confirms McCrae as one of the most learned and inventive poets of our time, throwing punches at the English language and its hierarchical traditions.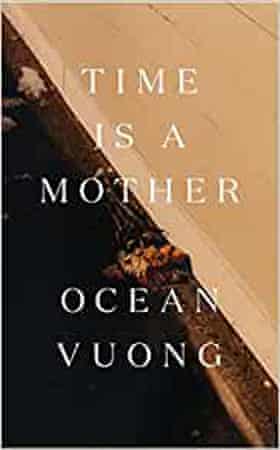 time is a mother by Ocean Vuong (Jonathan Cape, £14.99)
"How is it that the past is always longer? asks Ocean Vuong, as he ponders the nature of time when confronted with the death of his mother. Not since Emily Dickinson has poetry conveyed such an oceanic openness to silent laceration and self-resilience. These new poems collect fragile private moments and glue them together, like Joseph Cornell's collages made of salvaged materials. They are emotionally powerful due to their inherent vulnerability. Bullet imagery runs through the book, especially in Dear Rose, a timeless elegy as generous as Frank O'Hara's: "the bullet / makes you real by making you less." Vuong's words hit us with debris that feels like our own memories of art, love, grief and survival. Her maternal poems record the incompleteness of life, even as we find ourselves in a world where a single word, a quick turn of phrase or a short line make a difficult moment bearable. Nevertheless, the violent fermenting process they exhibit keeps the poetry piquant, truthful and indelible.
Garden physics by Sylvia Legris (Granta, £10.99)
Given our history that life began in Eden, it is hard to imagine language or poetry without our hymns to plants. Sylvia Legris' vegetal music has a sharp cerebral edge that combines the radical and bewitching rhythm of Gerard Manley Hopkins and the satirical wit of Marianne Moore. "A flower is a throat", observes the poet, and the poems challenge our understanding of roses, oaks, hawthorns, sorrels, laurels and many other plants with the observant eye of a gardener and the mercurial language of a linguist: "Borage for courage. / Self-healing. All-care. By crook or hook-healing. His high-tension, often wordless arrest lines draw our busy field of vision onto the microscopic marvels of botany, examining the violet's "seeded umbilicus." Floral Correspondences, an imaginary exchange between Vita Sackville-West and Harold Nicolson, weaves Sissinghurst and Bloomsbury. The book concludes with De Materia Medica, a fun and ingenious recreation of the Greek Dioscorides' original encyclopedia of herbal medicine. Sensual, intelligent and cardiovascular, Garden Physic is an avant-garde ode to plants, loaded with human knowledge and natural mystery, accompanied by precious illustrations by the poet.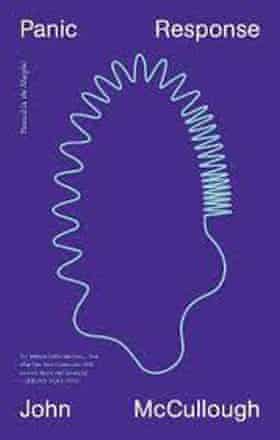 Panic response by John McCullough (Written in the margins, £9.99)
The fear of speaking is as quivering as the desire to break restless silences in John McCullough's third electric collection. Sad but angry, surreal but deadpan, McCullough's poems exert immense pressure on the autobiographical self: "I write this while my hands are shaking. The poet seizes the present by the throat to revisit the scabs of childhood, depression, stigmatization, homophobia and other sources of turbulence and panic. Historical and scientific anecdotes predominate, creating a syncopated, elegiac, rebellious, painful and radiant cultural and personal chronicle. Whether confronting a vending machine in Shinjuku, Tokyo, a long-lost friend, or the spit-filled sidewalks of Watford, McCullough's poetry translates the "nervous chatter" of our lived moments into a bold and multi-layered where the self happens to be "removing / pieces of myself, a little at a time".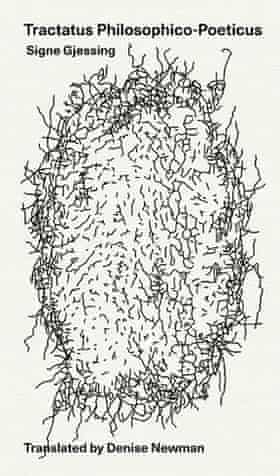 Tractatus Philosophico-Poeticus by Signe Gjessing, translated by Denise Newman (Lolli Editions, £8.99)
Marking the 100th anniversary of the publication in English of Wittgenstein's landmark work, Signe Gjessing turns the original on its head, reimagining its 525 intense logical statements into 112 playful, aphoristic bullet points that simultaneously mock and pay homage to Wittgenstein's numerical hierarchy. Gjessing finds poetry and freedom in the philosopher's restrictive lexicon: "3.121111 Worlds are roses in a children's edition". The book, however, is wilder and more generous than a simple satirical pastiche. It generalizes without being bland, condenses without being narrow, and philosophizes without being poetic. For example: "5.2211 Love creates little medallions of universality", or "6.22 The world believes its possibility is worth seeing". An enchanting portfolio, both mind-blowing and uplifting.