Posted In: UJE Initiatives, Book Fairs/Festivals, Literature, Culture, Outreach

The Ukrainian Jewish Encounter (UJE) is a long-time sponsor of the Meridian Czernowitz International Poetry Festival, which took place this year from September 2-4, 2022.
Despite Russia's ongoing criminal war against Ukraine, this year's festival was held in person in Chernivtsi, Ukraine, in front of enthusiastic audiences and was also streamed on the official Facebook page and YouTube channel of Meridian Czernowitz.
The program included presentations devoted to Ukrainian Jewish literary discourse, as in previous years. Ukrainian literary translator Yuliya Lyubka moderated a panel on the poetry of Israeli poets Shachar Mario Mordechai and Eran Tzelgov; Soviet dissident Josef Zissels, head of VAAD (the Association of Jewish Communities and Organizations of Ukraine), spoke about Ukrainian ethnic communities in the context of Russian aggression against Ukraine; and Ihor Pomarantsev, co-founder of Meridian, journalist, poet, participated in a discussion on the war.
Below is a video of the discussion and poetry readings with Shachar Mario Mordechai and Eran Tzelgov in Ukrainian, English and Hebrew, as well as selected translations of their works into Ukrainian by Yuliya Luybka. The Meridian Czernowitz Facebook page offers a nice selection of photographs from this year's festival: and Portraits of Meridian Czernowitz 2022 by Julia Weber.
Meridian Czernowitz, Poetry Readings: Israel, September 4, 2022
Speakers: Shachar Mario Mordechai and Eran Tzelgov with moderator and translator, Yuliya Lyubka
Shachar Mario Mordechai's poetry in Ukrainian translation can be read here.
by Eran Tzelgov poetry in Ukrainian translation can be read here.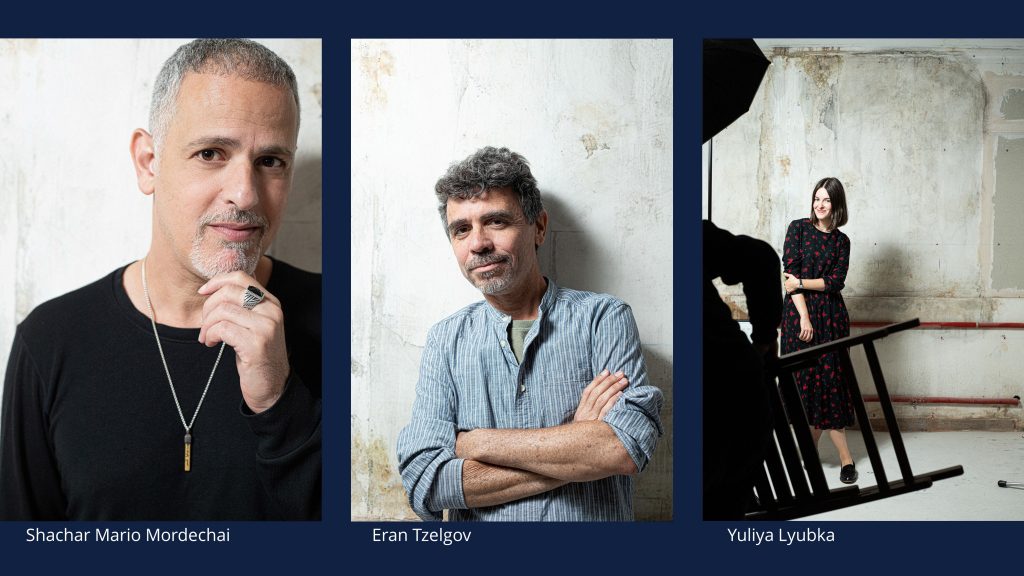 Photos: Portraits of Meridian Czernowitz 2022 by Julia Weber