Malachy McCourt and Mike Veve.

July 28, 2022
by James Rogers.
Maureen Hossbacher hosted another wonderful evening of literature and music at this fine establishment, The Ellington on West 105th Street (serving one of the best pints of Guinness in town).
The evening began with author and creative writing professor John McCaffrey returning to the Salon to present his latest short story book, "Automatically Hip." John read two humorous and thought provoking articles: "The Benefits of Having an Imaginary Friend" and "Untuckit-35". According to John, the selections represent well the general theme of the book that it is better to greet struggles with a smile and fortune with a frown. here is a link to a recent interview with John that details more about his writing journey and where you can buy Automatically Hip and more of his books.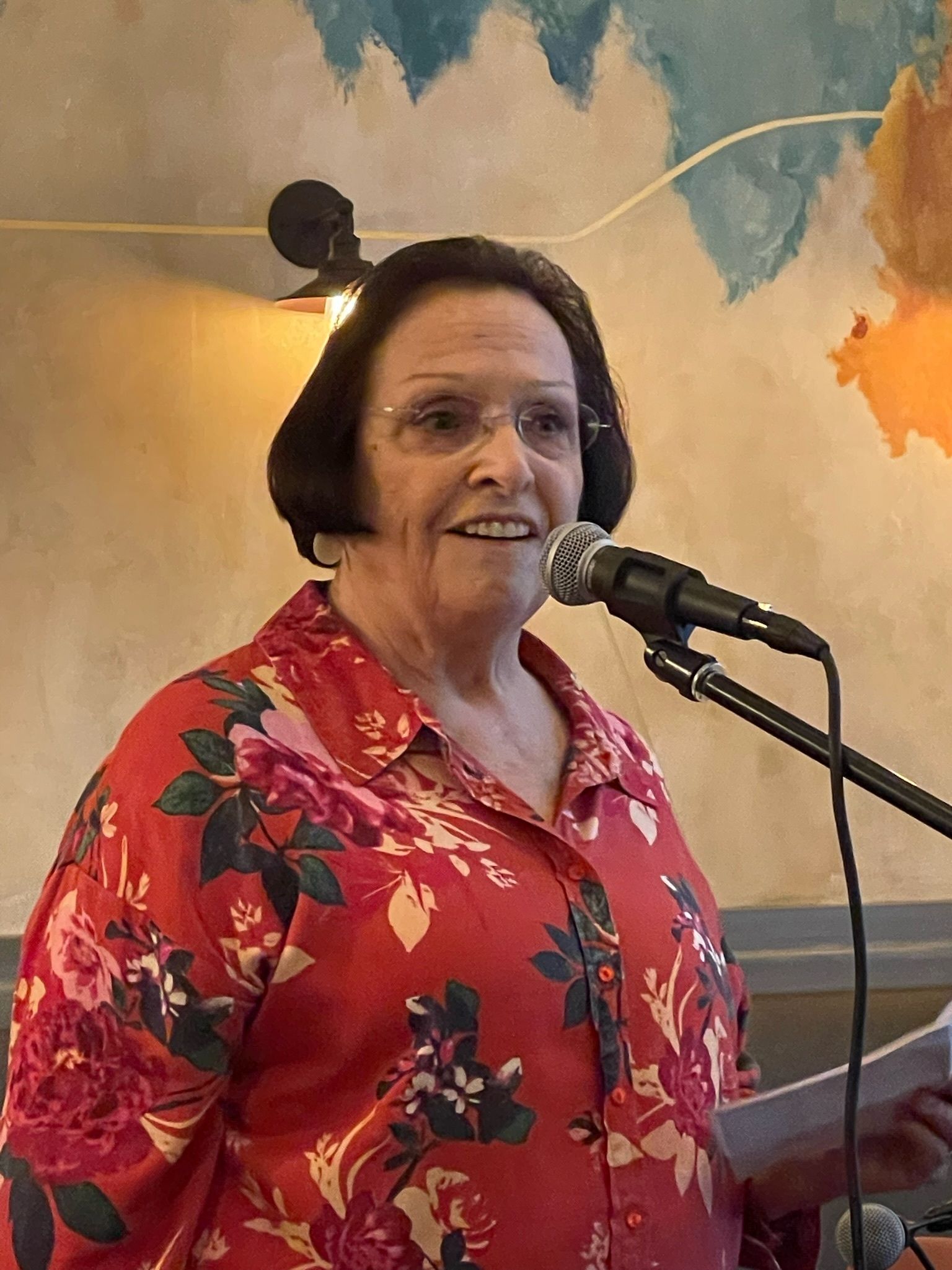 Maureen Hosbacher.
Jenifer Margaret Kelly is a playwright, poet, and New York public high school teacher who lives in Manhattan. She read two short poems, one a humorous reflection on the polar extreme of being 'too polite' and the other a more introspective reflection on life in the city away from the stars we saw long ago. before the buildings we live in scratch the sky. It ended with a dramatic monologue from the perspective of a woman trying to defend her right to have an abortion and her plea for help when in fact those who oppose her right do nothing. to help her as she faces the disastrous consequences alone. let this simple right be stolen from him. Jenifer's short play will be featured in the next playwright/actor panel PAGES on August 2 and will host reading and participation by Irish American writers and artists at the New York City Poetry Festival on Governors Island the weekend of September 10-11. .
Mike Veve made his reading debut at the Salon, sharing a poem he wrote about the pandemic in New York called "Bird Song or Siren." The poem was dedicated to five of Mike's students, whose parents were frontline workers at the height of the pandemic, and to Mike Herron and Kimarlee Nguyen, two friends he lost to Covid-19. A poet and fiction writer, Mike is entering his 21st year as a New York public school teacher, 20 of which he spent at MS 243, The Center School on the Upper West Side. Mike was shortlisted to receive a Blackboard Award for Excellence in Education in 2018. His work has appeared in The Massachusetts Review, A Gathering of the Tribes, the poetry anthology El Coro: A Chorus of Latino and Latina Poetry, the crime anthology "Down to the River," and Ben Arthur's "SongWriter" podcast, available anywhere you download podcasts. He is currently working on a collection of short stories and poetry.
Jack DiMonte is a wonderful actor and singer well versed in New York's vibrant jazz and cabaret scene. At the special request of our host Maureen, Jack performed 'When the World Was Young', a French summer ballad from the 1940s with English lyrics provided by the great American lyricist Johnny Mercer.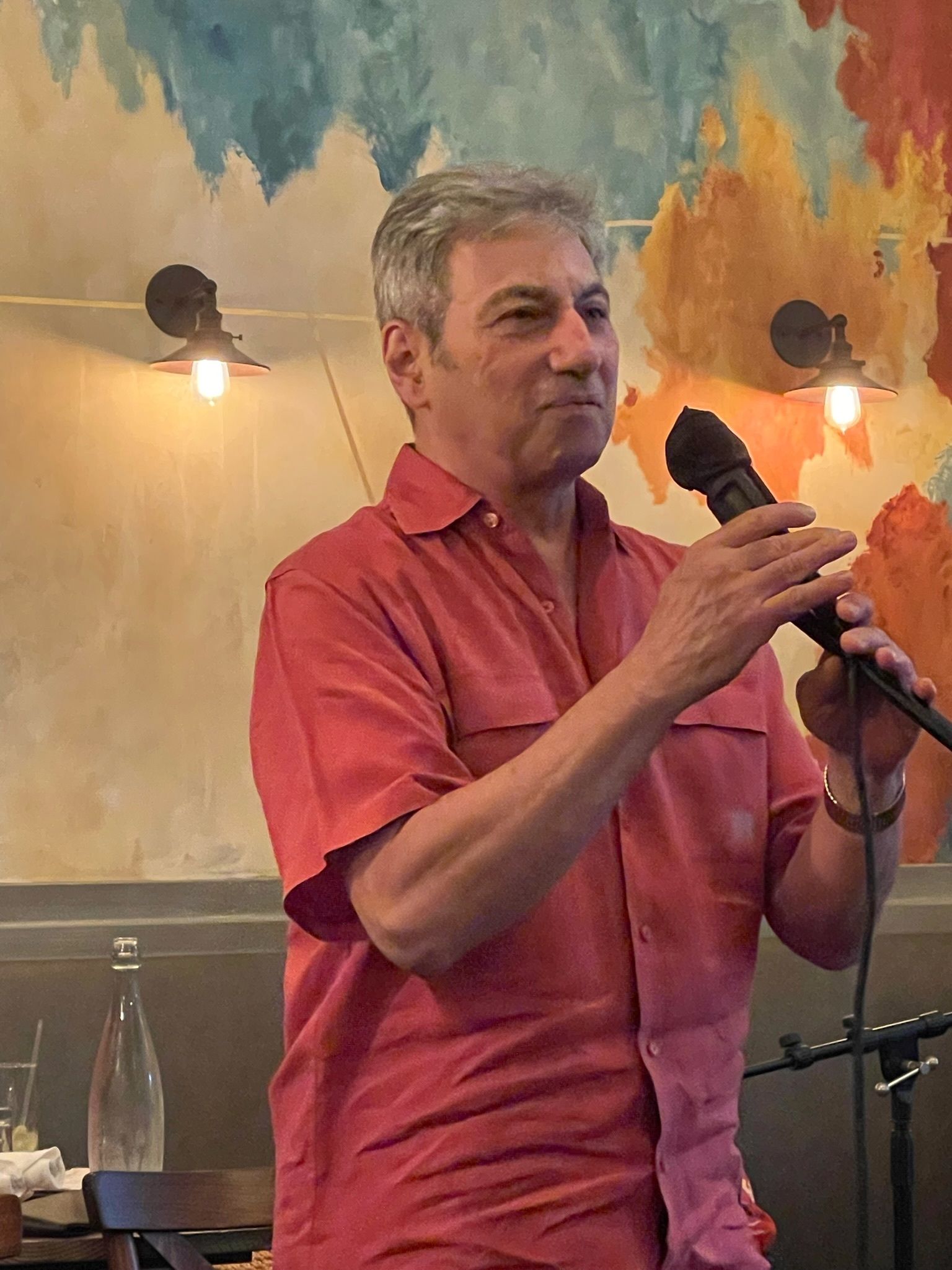 Jack DiMonte.
Brendan Costello Jr., vice president of the IAW&A, performed a few songs, accompanying himself on acoustic guitar. It started with "Brother Can You Spare a Dime", written by Yip Harburg, who was also the lyricist for "Somewhere Over the Rainbow" and other songs from "The Wizard of Oz" and "Finian's Rainbow". Brendan pointed out that, like John McCaffrey and himself, Harburg was a CCNY graduate. Moving from financial news to weather, Brendan offered his rendition of The Kinks' "Sunny Afternoon."
Journalist and author Jill Caryl Weiner read her ongoing short story, "Late Spring," which follows a young American woman whose simple quest to clear her head among the beautiful landscapes around the Mediterranean turns into a fight for her life against powerful and uninvited waters. guests. Jill's two best-selling baby memory books, When we became three and When we became four (available on Amazon and Barnes & Noble), chronicle the happy chaos of pregnancy and parenthood while letting new parents create memory books that will keep them laughing and reminiscing for years to come. Visit his site here.
The evening wouldn't be complete without a few words and a song from Malachy McCourt, a man who doesn't need a mic. Malachy's handprints were recently added to "The Sidewalk of Stars" + at the historic 80 Theater on St. Marks Place. With an excellent voice and a good mood, he led the Salon in some lively choruses of "The Holy Ground".
For upcoming trade shows and events, keep an eye on Facebook and the IAW&A websitewhere you can subscribe to the newsletter.